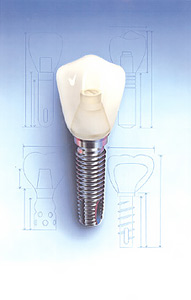 Delmar Dental Medicine offers dental implants which are an exciting treatment option that has changed the lives of many. Dental implants have been used for years and offer patients natural-looking replacements for missing teeth.

Do you have spaces in your mouth due to missing or extracted teeth? Do you have a denture or partial denture that does not fit properly? Are you embarrassed or avoid laughing or smiling because of these problems?

Dental implants may be the answer to your prayers. Dental implants can secure a crown, bridge or denture into your jawbone and can look and feel like your own teeth.

Dental implants substitute for the lack of roots of missing teeth – They provide a strong foundation for a dental crown, bridge or denture.


Along with our usual implant services, we also place small implants to stabilize dentures. Denture patients who have discomfort, trouble chewing and speaking, fear of surgery, limited budgets and prefer quick results, will benefit from this service.
There are certain factors that determine if a patient is a good implant candidate. A thorough exam will help Dr. Abele to determine if implants may be right for you.


For those who prefer to be sedated during a dental implant procedure, Dr. Abele is certified in Dental External Conscious Sedation in New York State.

Read more about Sedation Dentistry at Delmar Dental Medicine.
Some of the Benefits of Dental Implants
Dental implants versus other restorative options improve the patient's ability to bite, chew and speak.
Dental implants last much longer than conventional restorations of teeth.
Improve patient's appearance – look natural
Improved comfort - feel natural
Dental implants are more convenient than dentures. No need to remove, clean, or use adhesives to keep your dentures in place.
Dental implants preserve other teeth by avoiding the need to cut down adjacent teeth for conventional bridgework. (see animation of a Dental Bridge on our Restorative page.)