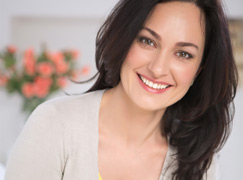 Delmar Dental Medicine performs a wide variety of cosmetic dentistry services including cosmetic tooth bonding, teeth bleaching, porcelain veneers and composite (white color) restorations.

We also have the latest in cutting-edge technology - ceramic crowns.

Our onsite lab technicians have been with our dental practice for 15-20 years and construct all ceramic crowns, porcelain veneers, and any other dental prosthetics needed.
Composite Resin (Plastic White) Fillings
We use composite resin (plastic white) fillings, instead of "silver" mercury. Composite fillings help support and hold a tooth together, making it less likely to fracture. They are also cosmetically superior because their color can be matched to the color of the tooth, making the filling almost invisible.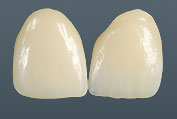 Porcelain veneers are wafer-thin, custom-made, tooth-colored coverings, made of porcelain and designed to place over the front surface of teeth to improve their appearance. The thin outer layer of the tooth is removed before placing veneers on the teeth. Veneers are bonded to the teeth. Delmar Dental Medicine creates all veneers in our on-site lab after a customized mold has been created for the patient.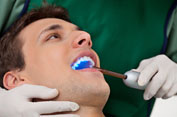 Dental bonding utilizes a tooth colored composite similar to dental fillings to build up layers of resin on the tooth. Dr. Abele will use a shade guide to select the composite resin color that will match your tooth's color most closely. He etches the surface of the tooth to roughen it. The tooth is then coated with a conditioning liquid which helps the bonding material adhere. The bonding material is hardened with an ultraviolet light or laser. The material is then trimmed, shaped and polished.



A dental crown is a tooth-shaped "cap" which is placed over a tooth to restore its shape, size, strength, and improve its appearance. Ceramic crowns are a type of cosmetic crown which are made purely from ceramic and no other material. Ceramic crowns are the most popular because they resemble your teeth the most closely.



Delmar Dental Medicine offers in-home bleaching. Bleach trays and molds are created in our lab. Dentist-supervised tooth whitening is still the safest, most effective method for brightening your smile.
Porcelain Veneers vs. Dental Bonding
Generally speaking, porcelain veneers tend to look slightly more natural.
Dental bonding tends to be more cost effective than porcelain veneers.
Dental bonding only requires a single visit. Porcelain veneers will require at least two visits.
Bonding has a shorter lifespan than porcelain veneers.
Dental bonding patients need to be more careful eating certain foods than those with porcelain veneers.