welcome to delmar dental medicine!
Gentle Dental Care for All Ages!
Thomas H. Abele, DMD, FAGD welcomes you to the Delmar Dental Medicine Web Site! We are located at 344 Delaware Avenue in Delmar, NY.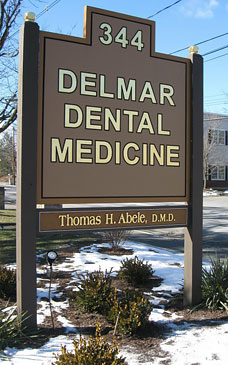 Delmar Dental Medicine has been located in the heart of Delmar since 1969 and provides treatment to children, teens and adults. Dr. Abele provides services ranging from routine dental care to complicated surgical cases and has been offering dental implants for more than 30 years. One of his goals is to provide patients with the best dentistry in a comfortable and relaxed environment. Each exam room has a television set. Two of the exam rooms contain massage chairs. The reception area is very calming and feels like home. The doctor offers conscious sedation to those who may be anxious visiting a dentist.
The office also features an in-house dental lab. Our highly qualified technicians work closely with Dr. Abele and each patient. Our on-site lab delivers higher quality work with shorter waiting periods. All crowns, bridges, partials and dentures are made in the lab. The lab allows patients to replace temporary fixtures with more comfortable permanent ones in a shorter period of time.
Dr. Abele has the designations of DMD (Doctor of Dental Medicine) and FAGD (Fellow of the Academy of General Dentistry). "A general dentist who is a "Fellow" in the AGD has been recognized by other general dentists as a leader and exemplifies to other dentists the importance of quality continuing dental education. To earn the FAGD, a dentist must complete a minimum of 500 continuing dental education credit hours, pass a comprehensive exam and have been an AGD member for three continuous years".
The Art and Science of Dental Medicine
With much-celebrated advantages for patients, the dental sciences have evolved significantly over the years. Meet the dentist who anticipated the future and embraced it!
read more...

Please see some of the Dental Services we offer to patients below. For the full list, please access the Services list in the menu bar at the top of the page.